Why Copenhagen is a modern day fairy tale
From wild Vikings to ancient castles and palaces inhabited by real princes and princesses, cobblestone narrow streets and a certain sculpture of a little mermaid. Copenhagen is a modern day fairy tale with a happy ending.
The cityscape of Copenhagen is an elegant mix of advanced modern architecture, waterways, open spaces, cobblestone narrow streets, old timbered houses, ancient castles and palaces. Copenhagen oozes of history, and the royal history is ever-present.
A tour in and around Copenhagen harbour and canals will take you from the father of fairy tales Hans Christian Andersen's Little Mermaid sitting on her rock at the entrance to the harbour to the modern architectural addition to the Royal Danish Library, The Black Diamond, housing restaurant Søren K, named after the famous Danish philosopher Søren Kierkegaard.
Copenhagen is a city that effortlessly combines old and new, preserving its 1,000-year history, yet always looking to the future with open arms, hearts and minds.
Once were Vikings
All Danes have a little Viking blood in them. From the 8th-11th centuries the population of Scandinavia was known as Vikings - Norse explorers and merchants, warriors and pirates who raided, enslaved and raped their way through Europe from around 800 to 1066. The Vikings settled all over Europe, some areas in Asia and the North Atlantic.
Havhingsten 'The Sea Stallion' in Roskilde Fjord - the world's largest reconstructed viking ship.Bilde:Martin Heiberg
Do not fret. We are a little more civilised nowadays. However, you will find many traces and artifacts from the Vikings and the Viking Age in Copenhagen and especially in the countryside, and the Viking city of Roskilde can be reached by 30 minutes with train, while Lejre Land of Legends and the Viking fortress Trelleborg and Frederikssund Viking Village all require a car.
Copenhagen was founded in 1167 by Bishop Absalon. Over the following years herring fishing brought great wealth to Copenhagen and in the 15th century, the city claimed status as the capital of Denmark after Roskilde. Under the reign of King Christian 4th in the 17th century, the city grew to become the important regional capital it remains today. Today, the capital region has a population of 1.9 million.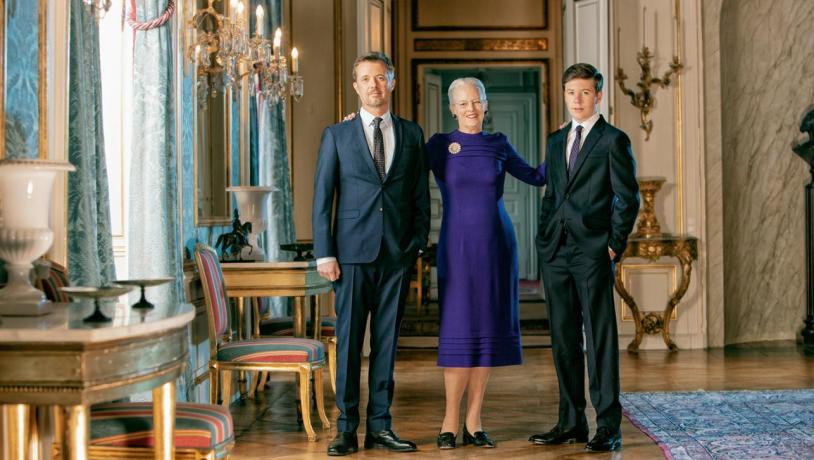 The Queen together with His Royal Highness The Crown Prince and His Royal Highness Prince Christian photographed in connection with Her Majesty's 80th birthday on 16 April 2020.Bilde:Per Morten Abrahamsen
One of the world's oldest monarchies
Copenhagen is home to one of the world's oldest monarchies and an extremely popular royal family. And on April 16 2020, the matriarch, Her Majesty the Queen celebrates her 80th birthday. Due to the current coronavirus, a lot of the celetrations have been cancelled, but the beloved queen is celebrated in alternatives way, including a nationwide, televised birthday song.
 
To fully understand the otherwise very modern and democratic Danes' love for their royal family, one needs to look at our national identity. Denmark is a small country with a population of merely 5.6 million people, and many Danes perceive the royal family as moral protectors and representatives of our nation.
Danes who lived during World War 2 will remember King Christian 10th of Denmark riding daily through the streets of Copenhagen on his white horse during the German occupation. He was only accompanied by one guard. Danes saw it as a heroic act and a symbol of resistance. A light in the darkness. It made him one of the most popular Danish monarchs of modern times.
Modern royal family
Head of the present royal family is monarch Queen Margrethe 2nd. Next in line to the Danish throne is their eldest son Crown Prince Frederik, wed to Crown Princess Mary, who originates from Tasmania, Australia. They have four children: Christian, Isabella, Vincent and Josephine. 
Many Danes regard Mary and Frederik as role models and representatives of a modern Danish family, balancing life between work and play. In recent years, Crown Prince Frederik completed an Ironman in Copenhagen and is often seen picking up his kids from kindergarten in a Chrstiania bike, just like any normal Danish father. Thus the Crown Prince couple is perceived as great representatives of Denmark and Danish values internationally. That is also how many of us justify their royal status and financial benefits paid for by the state.
Another reason why Danes love the royal Danish family and especially Queen Margrethe 2nd, is because she has always been very relaxed and down to earth. She literally let her grey hair down on one occasion, is a heavy smoker, and does not mind showing she is just like the rest of us, and yet not.